Smart Registration enables you for new registration, contains custom user fields, default user fields, custom user roles, and protection from unauthorized login. Furthermore, it verifies the new user registration and redirects users to the custom URL. Admin can auto approve or set manual option for new user registration.
Shortcode

There is a simple shortcode for the login form, registration form, and login/registration form. Thus, the admin can display the login & registration form on any web page by placing a simple shortcode.
New User Registration
When the user fills our registration form admin can choose new user approval either auto or manual. Enable the option for sending an email to the user after registration is approved by admin.
Smart Registration General Settings
In the Smart Registration general settings, you can set the field position at the top or bottom of the registration form. However, you can enable/disable custom fields for the registration form. For instance, you can also enable Google ReCAPTCHA for the WooCommerce login and registration form. Furthermore, enable hide options for customers to select custom fields on checkout page registration.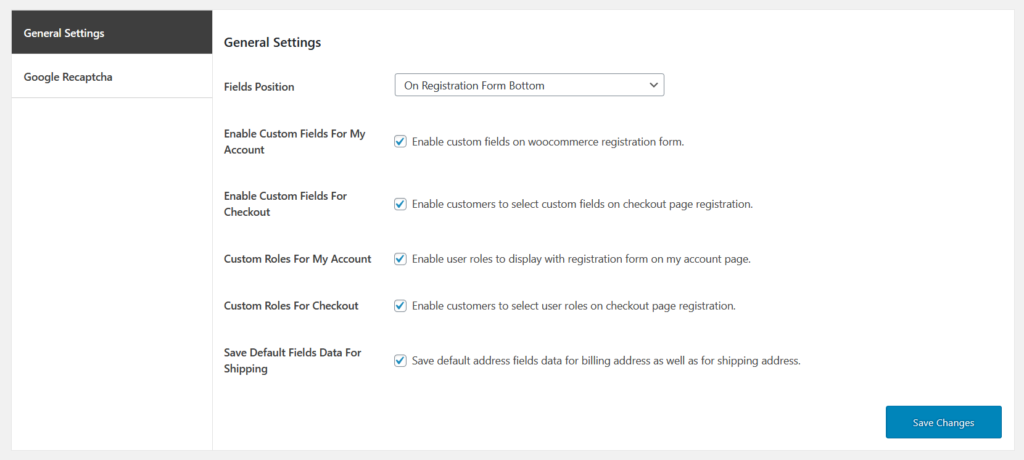 Smart Registration User Approval
There are two options for new user approval in the Smart Registration user approval select either auto or manual approval. Similarly, Check the options to send an email after user approval or disapproval by admin. Furthermore, the option can be checked to send an email to admin when a new user is registered.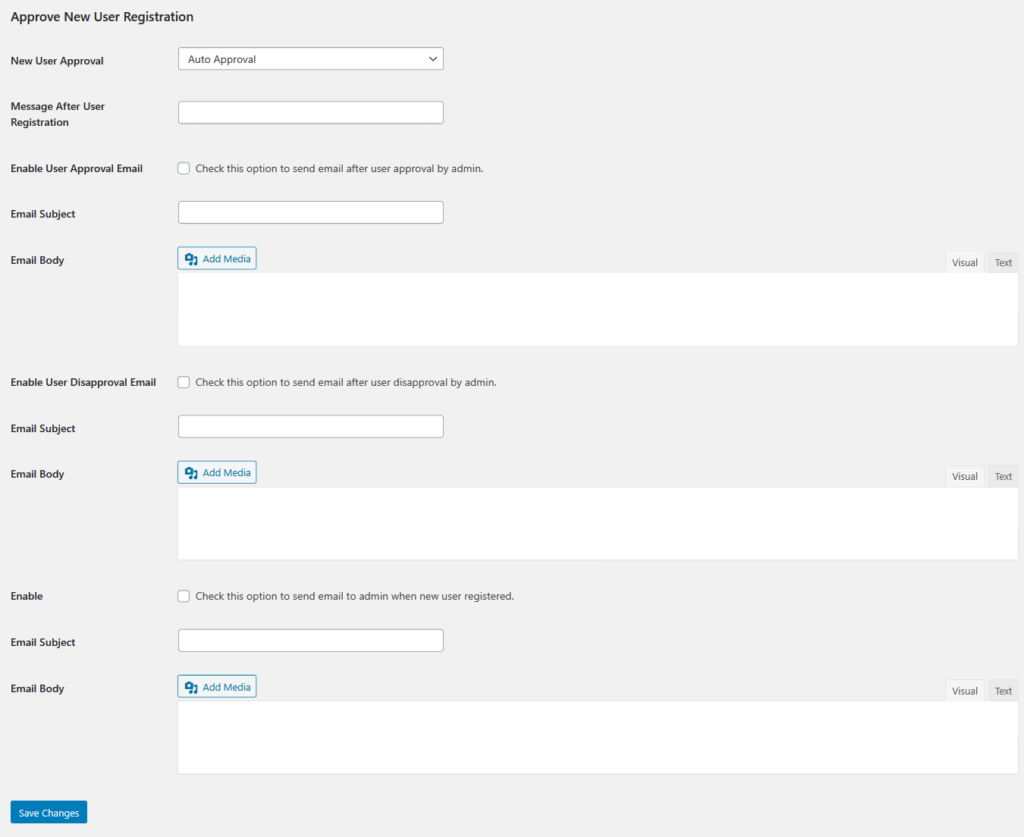 Google reCAPTCHA Settings
In the general settings of Google ReCAPTCHA insert site and secret key at your web-page. One of the important benefits of Google ReCAPTCHA is that it prevents unauthorized or fake registration. In addition, there is also a checkbox at the back-end settings where you can enable for login and/or registration form.

Smart Registration Role Options
In the user role registration settings, you can select the role field label.  However, you can enable the option to make the user role selection dropdown required field on the user registration form. Whereas, you can select the user roles to show on the registration form.
If you enable the option, a notification will be sent to the user about the approval of their requested user role. Furthermore, If the option is enabled, a notification will be sent to the user about their requested user role's disapproval.

Smart Registration Default Address Fields
There are 10 default registration fields available for registration, such as name, city, phone, etc. You can enable or disable the field for registration and check the field as required.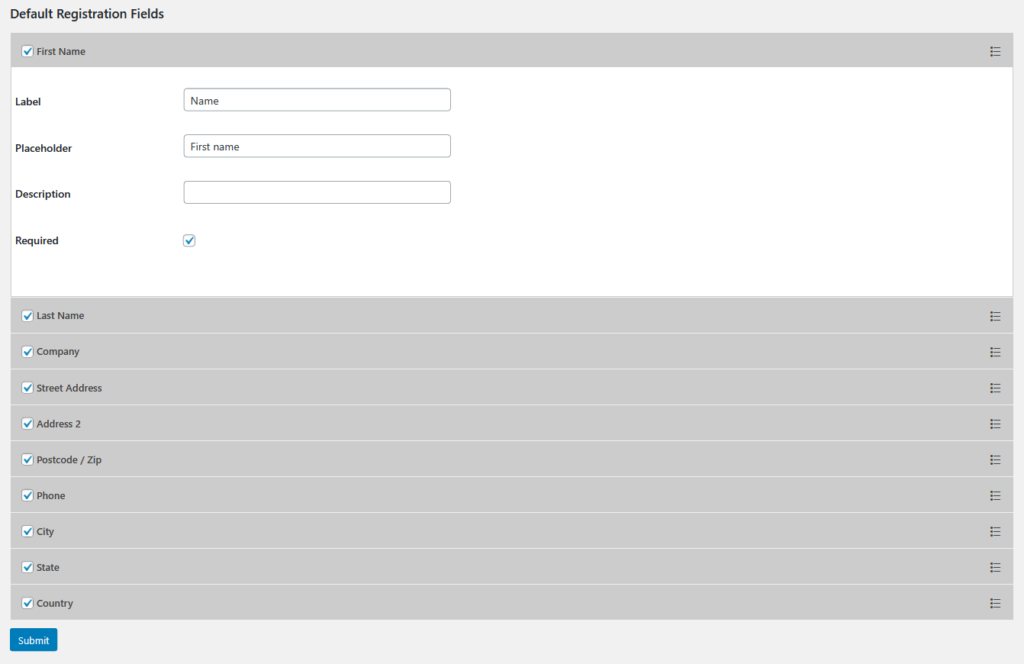 Smart Registration Custom Fields
There are 16 custom fields for registration such as text fields, dates, check boxes, number, dropdown, file uploads and others. Thus, you can add custom fields by drag and drop options.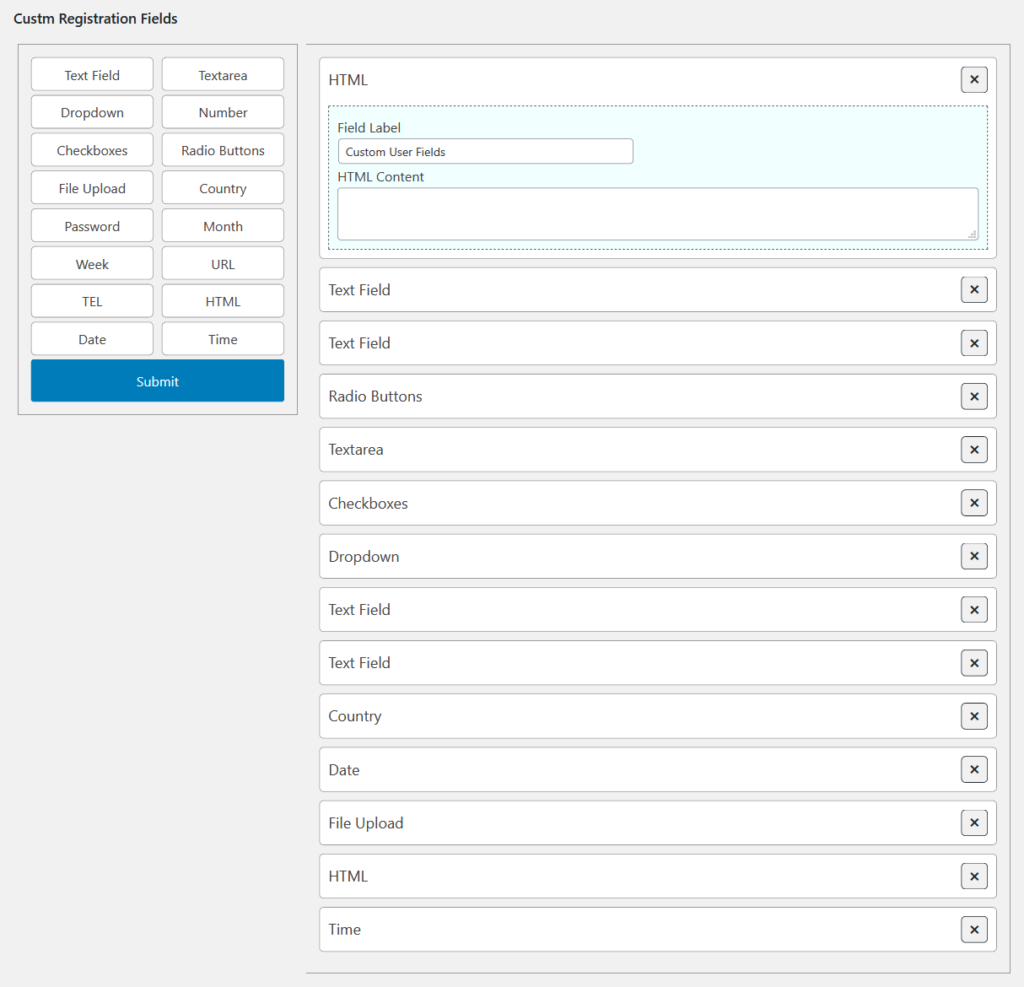 The extension enables you to redirect users to an specific URL after login or logout. Similarly, you can also redirect users after registration.
Redirects After Login
Redirects After Logout
Redirects After Registration
Smart Registration Custom User Roles
You can add a custom name, slug, and description that you want to appear on your site in the custom user roles.